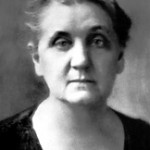 AAUW Jane Addams Day on December 10, 2019
What:  Celebrating Jane Addams Day Program and Reception
We recommend the program at the Jane Addams Hull-House Museum (JAHHM), 800 S. Halsted Street, on December 10th from 6:00 – 8:00 pm. This year's program is entitled "Jane Addams' Day – Making Lineages Visible" and is the third in a series of programs conceived by JAHHM to complement their exhibition Arte Util as part of their ongoing partnership with the Chicago Architecture Biennial. Arte Util is defined as "an idea of art as a tool for social change" and the December 10th program will feature local women and queer activists who work towards social change and explore the continuums in social justice organizing. The program is free if you RSVP on their website: hullhousemuseum.org
Time: 6:00pm – 8:00pm
Where:  Jane Addams Hull-House Museum  800 South Halsted Street, Chicago on the UIC campus   www.hullhousemuseum.org
Parking:  Public Transportation, street parking, or Halsted St. parking lot or UIC Halsted stop on CTA Blue Line
In May 2006, the State of Illinois declared December 10th as Jane Addams Day to honor her contributions to Illinois and the world. During her lifetime, she had numerous, outstanding achievements; she was a founder for many important institutions such as the social settlement Hull-House, the American Civil Liberties Union (ACLU), and the National Association for the Advancement of Colored People (NAACP). She was the first American woman to win the Nobel Peace Prize in 1931. AAUW is very proud that Jane Addams was a founding member of the Chicago AAUW branch in 1889. Jane Addams Day is an opportunity to celebrate the Hull-House progressive tradition and the practice of peace, and to bring people together who are working on peace and justice.
AAUW advances equity and education for women and girls through advocacy, education, and research. Since its' founding in 1881, AAUW members have worked on tackling the issues of the day from social to political issues.
For more information about Jane Addams Day in Illinois, check out the AAUW website: http://aauw-il.aauw.net/about/jane/. For more information about the Chicago Inc. branch of AAUW go to https://chicago-il.aauw.net/ or check out Chicago Branch of AAUW on Facebook.